There are not many humans around that don't love a bit (or a lot) of chocolate here and there, but why is it that we can enjoy the oh-so-delicious treat when it's actually quite toxic to many of our furry friends?
The culprit is a naughty little molecule called theobromine. Theobromine occurs naturally in some plants, most notably in cacao… the key ingredient of chocolate.
Chemically speaking, the "ine" at the end of its name groups it with other alkaloids like caffeine, nicotine, cocaine and strychnine… absolutely none of which are pet-friendly if there's any doubt!
Don't get us wrong, we definitely don't have a grudge against all alkaloids. There are some super-helpful ones we use in medicine all the time including morphine, quinine and ephedrine. But theobromine is just plain dangerous to our furry friends.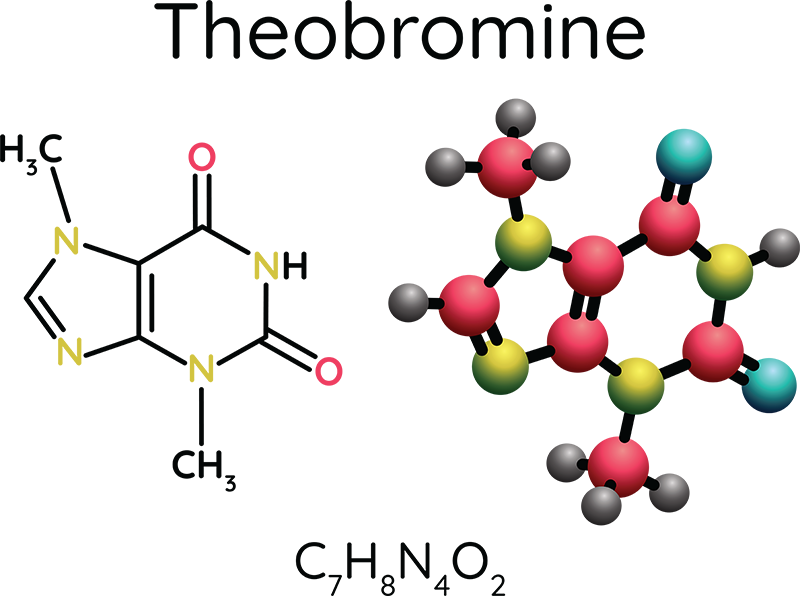 Just like its cousin caffeine, theobromine incites some nice feelings in humans and puts some pep in our step. But because our pets are smaller and have different metabolisms, even a small amount can be poisonous to them.
You know that feeling you get when you have a big deadline and you slam down coffee after coffee and cola after cola in an attempt to stay up all night? Your mind is fuzzy, your heart is racing, you can't keep still and you think you might be sick? That's not the looming deadline, that's the toxicity of caffeine making itself known. It's similar to what it feels like when a pet ingests even a small amount of theobromine in chocolate. Worst case is that those symptoms possibly lead to hyperactivity, tremors, seizures and death.
While the concentration of theobromine varies depending on the type of chocolate (baking chocolate and dark chocolate contain higher levels compared to milk chocolate), it's recommended you refrain from giving any types to your pets, even in small doses.
However, pets quite often help themselves so if you suspect they've eaten any chocolate, please call us as soon as possible so we can assess them quickly and start any necessary treatment as early as possible – it could save their life.